Our dogs have always lived with us in the house. Even though we have a kennel building the dogs are rarely out there if we are home and they are always inside to sleep at night. We've followed that practice since the beginning because our dogs are an important part of our family.
We've done several things to make life comfortable for our dogs in the house. The girls have the full run of the house and as shown on the Kennels page the boys have a bedroom that's all set up for their comfort.

Pictures of the inside of our home will be added whenever I get around to taking them.
For now enjoy a picture taken just before we moved to our new home. I was packing up some magazines and noticed that five of the girls were asleep on the sofa with Miller on the floor looking for a place to sleep.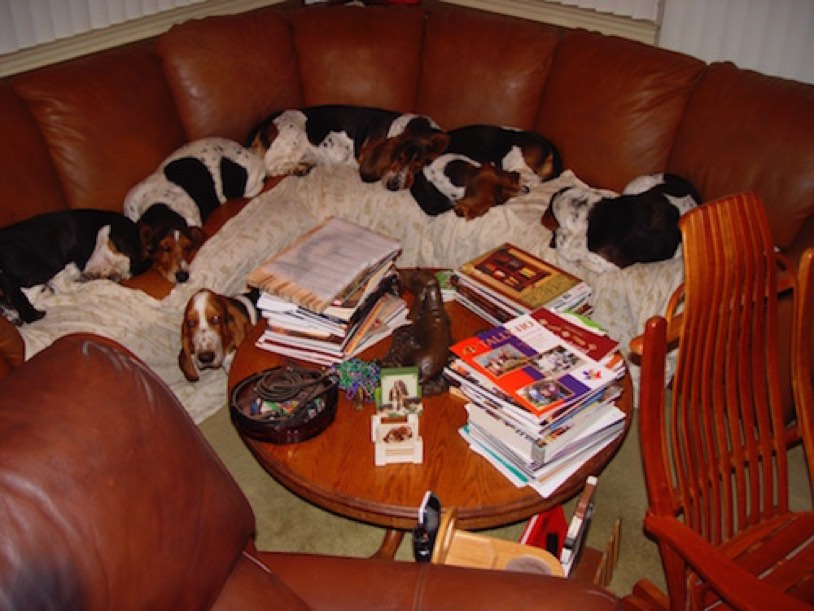 This is a photo of our family room in our previous house just before we moved. The five girls we had at the time decided that the couch was their haven from all the mess from packing and poor Miller got stuck on the floor. I'm not sure where the other boys were. They may have been outside.
As can be seen in this photo I had magazines and books piled on the coffee table. I was sorting through them before packing them in boxes. By this time our whole house was in disarray. This was one of the only areas that wasn't affected.