This page will no longer list basset hounds that are available from us. Eventually, once I have time to make the necessary changes, there will be litter announcements on this page from breeders whom Pam and I consider to be responsible/reputable breeders. We know how difficult it is to fine litters from these breeders.
Any breeders we recommend here are ones that we know who produce nice bassets and truly care for the breed. No, we will not mention every breder we know or just those who are club members. Even so we caution all in that it's always "buyer beware" when getting a puppy or older basset. Everyone should take the precautions that we mention on this website and that are mentioned on other websites. Just because someone shows their dogs and are members of dog clubs doesn't make all their puppies excellent representatives of the breed.
Pam and I greatly appreciate those who have our bassets and are very sorry that we've decided not to continue our breeding program. It was not an easy decision nor one that we took lightly. If any of you wish to contact us regarding any basset hound breeder please feel free to do so. We know just about every responsible/reputable basset hound breeder and if we don't we know people who do.
All our basset hounds are registered with the American Kennel Club (AKC). For more on this go to AKC Registration.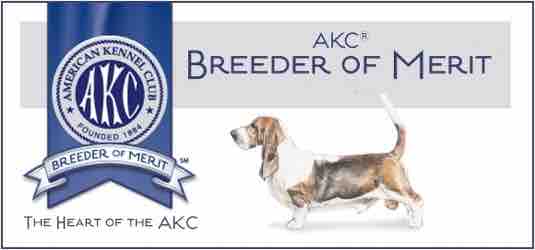 Both Don and Pam are listed by the AKC as Breeders of Merit. This is a fairly new designation from the AKC which sets quality breeders apart from the rest. For more information go to Breeder of Merit.
This website was created and is maintained by Don Bullock.
He can be reached at basithd@yahoo.com
All material on this website is copyright by Donald W. Bullock
All rights are reserved
Don & Pam Bullock have published this website for information only. None of the information constitutes legal or professional advice to our visitors. Don & Pam Bullock accept no responsibility for information and/or data contained on, or linked to this website. Nor do Don & Pam Bullock sell any animals or services on this website. Any dog listed as being available will be sold only from our home after we have conducted a thorough investigation of the family and their home. We do not ship dogs or sell sight unseen.
The Woebgon Basset's website contains links to third party websites. These sites are not under the control of Don & Pam Bullock nor is the couple responsible for the contents of any of these linked sites, including without limitation, any link contained in a linked website, or any changes or updates to a linked site. These links are provided by Don & Pam Bullock to you only as a convenience, and the inclusion of any link does not imply endorsement by Don & Pam Bullock of the site or any association with its operators.
We want those who visit our website to become informed about basset hounds and our bassets in particular. This is our favorite breed of purebred dogs and we hope others will discover why we enjoy them so much. Our bassets are our children.
In 2016 the AKC started distinguishing some breeders as Responsible Breeders. The Golden Retriver Club of America produced a video on this topic to show what that means. With their permission the AKC started producing a series of videos on Responsible Breeders. It is their intent to let people know that some breeders stand our because of certain characteristics. You can find our statement on this topic and a link to the AKC video at: Responsible Breeders
Pam and I are proud of being breeders of Basset Hounds. Because of the AR movement breeders have been chastised by the press and even some rescue groups. Our statement on us and our breeding attempts to answer those critics. On this page there is also an excellent video produced by the AKC on Responsible Breeders. LINK: Our Responsible Breeders Statemen and video showing us and our breeding.
Please also download the RED FLAG WARNING TO PUPPY BUYERS document. This list of DANGERS in finding a puppy was composed with the assistance of a group of Responsible Basset Hound Breeders on the Facebook Basset Basics Page.
SPECIAL NOTE: We have noticed recently that some websites have listed Woebgon Bassets on them. We have NEVER authorised any websites other than those published by the basset hound clubs to which we belong to include any information about us. We do not condone any such websites that list breeders. Please be very careful going to ANY of these websites. One that I discovered tries to freeze your computer and hold it for ransom money.