In 2012 we were approached by representatives of a TV show to do a promotional video of our collection of basset hound items. They hoped to sell our story to the program's producers. Pam and I decided that our collection was sparked by our devotion to the breed and wanted to make sure that whatever the producers did with their program that it honored basset hounds. While the representatives for the producers were thrilled with our video for some reason we weren't chosen for the program. The video below is what we sent in plus some additional segments that have been added. Yes, I'm not the greatest videographer or editor nor are Pam and I actors, but it was fun creating this video. Enjoy.
The video shows only a small fraction of our total collection of basset hound items. The figurines alone fill several display cases. As shown briefly in the video we also collect greeting cards with bassets, children's books, pictures etc. In fact we collect just about anything and everything that depicts basset hounds. Some of our friends have referred to our home as the Basset Hound Museum. However, we'd be lost without the real thing. Our bassets are our kids.
One of my future ideas for the website is to show our collection of basset hound items. This is something I'm working on as time permits. At this point we're actually starting to thin out the collection by donating items to a local basset hound rescue group to assist in their fundraising. Yes, we're still in the market for unusual and high quality basset hound items too.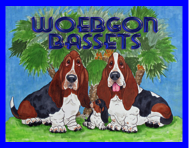 This website was created and is maintained by Don Bullock.
He can be reached at basithd@yahoo.com
All material on this website is copyright by Donald W. Bullock
All rights are reserved

This video is hosted on YouTube. It is meant for the private viewing of the clients and friends of Woebgon Bassets. It is not to be published or shared elsewhere or copied by any means. Thank you.
This video is located on YouTube.
Please remember to like and subscribe to our YouTube Channel