For those of you who aren't very familiar with basset hound specialty shows the clubs have several challenge trophies at every show. These trophies, like the one presented here are often dedicated to a special basset hound or a person. The member who donates the trophy decides who the trophy is to be dedicated to. All of them are very special. This video is included as an example of that.
Challenge trophies can be retired after the same owner or dog wins the trophy three times. This is an AKC requirement. Perpetual trophies that can't be retired are not allowed at AKC shows. The person who retires a trophy can choose to re-donate that same trophy or provide a new one or the club has to find another doner.
This video is about a special memorial trophy that was offered as a tribute to Mary Lukins and her dog, Dubby. The trophy was made to honor Mary's legacy of breeding Champion basset hounds. Mary and her mother "Katie" bred AKC Champion basset hounds for fifty years. Originally the trophy was commissioned by Mary to honor her mother. As you'll see in the video due to a very tragic event that plan changed dramatically.
Dubby (Desiree Acres Black Tie and Sneakers) was Winners Dog at the 2019 Basset Hound Club of Southern California Specialty Show. That win allowed Ron and Mary to retire the Winners Dog trophy. As mentioned in the video, tragically they lost Dubby to bloat. If you're interested in bloat or other health issues related to the breed check out the Basset Hound Health page on the BHCSC website (LINK - Basset Hound Health) There is a link on that page to a chart on bloat that was created by Mary for our club. She was a licensed Veterinary Technician.
I'd like to especially thank Mary's husband, Ron, for allowing me to publish this tribute and to Maria Bivens for allowing her beautiful photo of Mary taken at a BHCSC Specialty Show to be used on the trophy.
Please, if you like this video on YouTube, click on the "thumbs up" icon. That will help a lot with how YouTube ranks this video. Thank you.
Photos by:
Don Bullock
Mary & Ron Lukins
Maria Bivens
Video:
Produced by Don Bullock - Copyright© - All Rights Reserved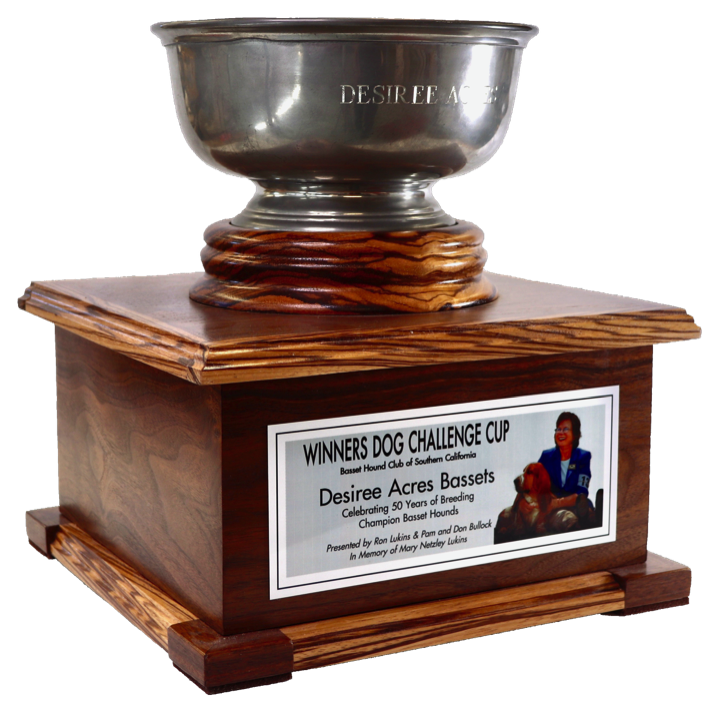 BHCSC Winners Dog Trophy
dedicated to
Mary Lukins