Prior to our show success and the foundation of our kennel's breeding program we had five other dogs. Our first was a beagle mix and the other four were basset hounds. These early dogs taught us a lot about dogs and bassets. They helped mold our eventual success. The trials and tribulations we went through with them greatly strengthened our resolve to breed the best basset hounds that we could.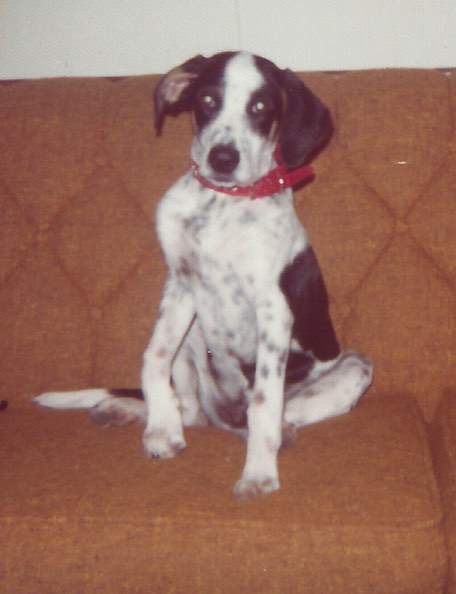 Ruffy - Our very first dog was a mix between a beagle and an Australian Shepherd. He had the look and short hair of a beagle but his coloring and size were more like the Shepard. While Pam had grown up with dogs Don's parents wouldn't let him have one so Ruffy was his first chance at having a dog. The two of them became special pals. Ruffy and Don were often seen riding together in the front seats of Don's VW Square Back wagon.
Rescued from the local animal shelter.
Maggie was our very first basset hound. We rescued her from the same animal shelter that Ruffy came from. To this day we don't know why we went to the shelter looking for a basset hound, but Maggie was there waiting for us. While she was beautiful she had a very poor temperament for a basset.
Rescued from the local animal shelter.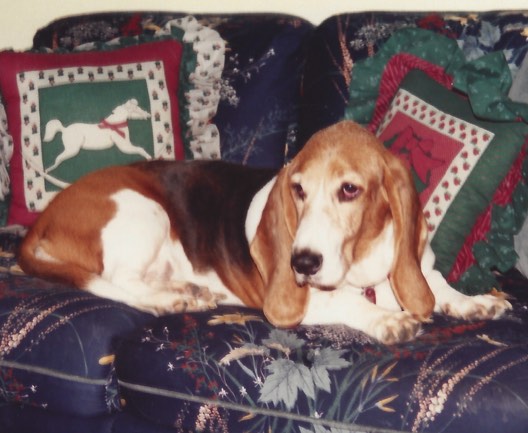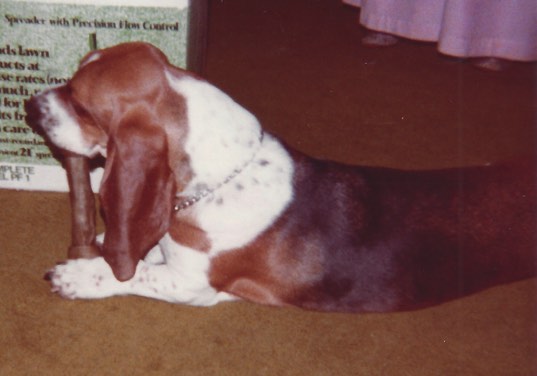 Lucy - We decided after rescuing our first two dogs that buying a basset hound with "papers" was important. We bought Lucy from a pet store in a shopping mall. Read about Lucy on her page and find out why that was a BIG MISTAKE. Buyer beware!
Lucy Woebgon Big Paws
Bought from a pet store.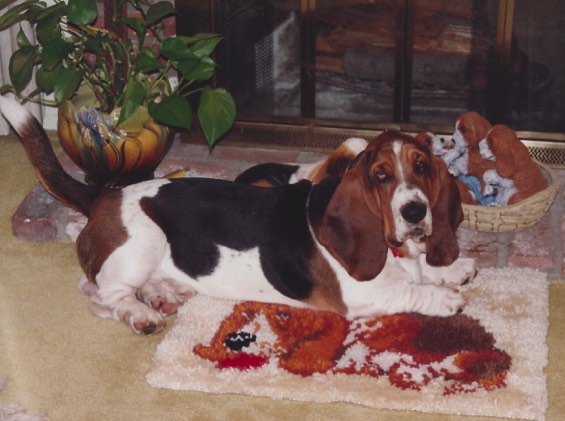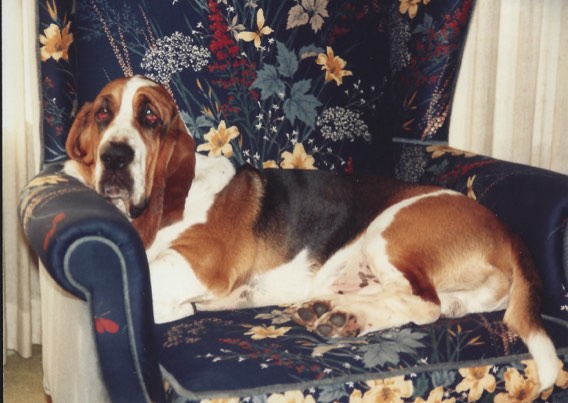 Chili was the first dog that we bought directly from a reputable breeder. He was a beautiful and wonderful dog. At the encouragement of his breeder we even showed him for a short time. His showing abruptly ended when the judge at his third show noticed that his bite had gone undershot. It happened almost overnight at the age of eight months. Unfortunately Chili developed glaucoma at a young age. While the disease claimed his eyesight it never changed his behavior or his spirit. He just loved life.
Tailgate Chilli Willie
Bought as a pet from a reputable/responsible breeder.
Sam was our first show dog. He was fantastic and loved showing. Unfortunately, due to a physical problem that developed, Sam had to be neutered and couldn't be shown. When Sam became a veteran we started showing him again. He loved showing and did very well as a veteran. If people are allowed to have favorite dogs Sam would qualify as one of our favorites. He was a very affectionate boy who loved life.
Shoefly's Samuel Adams
Bought from a breeder to show.
This website was created and is maintained by Don Bullock.
He can be reached at basithd@yahoo.com
All material on this website is copyright by Donald W. Bullock
All rights are reserved
Click on the dog names to find out more about each dog and see more pictures.