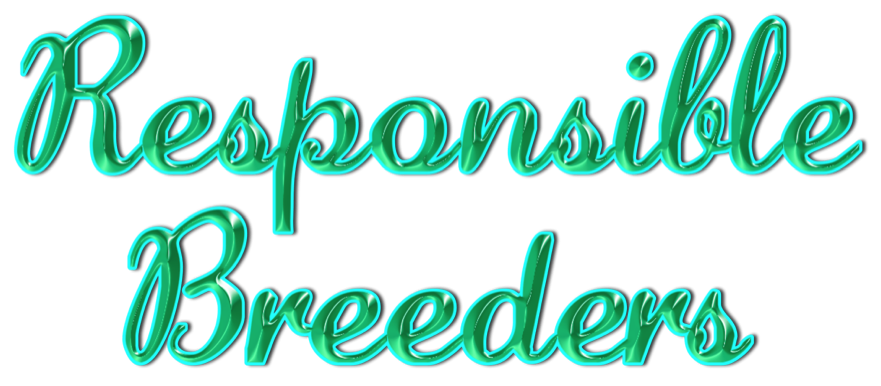 In light of all the breeders showing up on the Internet these days and all the negative rhetoric about breeders the American Kennel Club (AKC) is attempting to educate the public on breeders. They are trying to give people ideas on what to look for to determine which breeders are what the AKC would consider "responsible."
What is happening currently is that some so called Internet breeders are not even breeders. Some are just brokers for large breeders trying to make them look responsible. Others are outright scam artists. As with anything those who are looking for a puppy should be aware that not all "breeders" are alike and not all puppies are equal.
Many of those who do breed and list puppies for sale are doing so just to make money. They often breed only the dogs they happen to have and don't consider the consequences of inbreeding or make no attempt to maintain quality much less improve it. Their practices were included in a flyer (Red Flag Warning To Puppy Buyers) that was created by a group of longtime responsible basset hound breeders. It is suggested that you download and print this flyer to assist you in your search for a responsible breeder.
AKC's "I Am a Breeder" video series highlights responsible breeders and gives a behind-the-scenes look into "What Responsible Breeders Really Do." The series consists of several videos, each telling the story of a different breeder.
"Responsible dog breeders have a depth of knowledge and a level of commitment to purebred dogs that is admirable and should be celebrated. Many dog owners do not think that breeders are just like the average dog owner, but at the end of the day most breeders' passion for dogs started with the love of a family pet," AKC Vice President Gina DiNardo said. "Breeders care for and love their puppies. They're dedicated to bettering their breed and providing prospective dog owners with the best possible family pet they can. Breeders are a wonderful resource to their puppy buyers for the life of the dog."
If you have any questions about Woebgon Bassets or the concept of Responsible Breeders please don't hesitate to contact us. One thing that sets Responsible Breeders apart from others is that we're here for those who are interested in our breed. We're willing to share our passion and knowledge with others.
In addition to having been Responsible Breeders both of us have earned other distinguishing accolades from AKC. Both of us have been designated as AKC Breeders of Merit for Basset Hounds at the Bronze Level. More information on that can be found HERE. We are also recipients of the AKC's medallion for earning at least five AKC Championships from The Bred By Exhibitor class at dog shows. This means that these bassets received ALL of their Championship points from the class where only breeders can exhibit their own dogs. For more information look HERE.
As mentioned above group of long time basset hound breeders got together on Facebook and created a list of warnings for those who are looking for puppies. A downloadable and printable file (Red Flag Warning To Puppy Buyers) of this list is available HERE.
We also have a downloadable and printable copy of the AKC Standard for Basset Hounds HERE. While this is what AKC judges use to judge show dogs it is also important for all bassets. This Standard is what ALL basset hound breeders should be using as a guide for their breeding program. As someone looking for a basset hound YOU SHOULD EXPECT NOTHING LESS from ANY breeder.
In response to this video series and to provide another example of a responsible breeder we at Woebgon Bassets created our own video showing what happened here when we were involved in breeding Basset Hounds. As can be seen in this video we truly care about Basset Hounds and did all possible to produce excellent examples of the breed that make wonderful family members. If you're planning on buying a puppy to live with you as a family member why would you accept less from a breeder?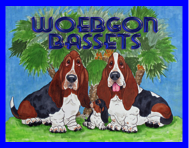 At Woebgon Bassets we have been very careful on the quality of the bassets we've acquired for breeding. We continue to work on the development of the breed in respect and honor of those who worked so hard to provide us with such fine bloodlines and for the love we have for the breed and have studied its history extensively.
We agree that the primary objective of all good breeders must be to preserve and improve characteristics of the breed according to the AKC Standard for Basset Hounds, which we subscribed to from the beginning.
We love strong, sound basset hounds, with good structure and sweet, lovable temperament as the breed should be. For us temperament and health come first.
For all the above reasons, our breeding program was very selective and we didn't breed very often.
Those of us at Woebgon Bassets have great passion for this extraordinary breed. We could not live without our basset hounds; they are our children, our lives.
Please remember to like and subscribe to our YouTube Channel
AKC's "I Am a Breeder" Video Series - This is a link to YouTube where videos from the AKC "I Am a Breeder" series of videos on responsible breeders can be found. Even though you may not be interested in the particular breeds mentioned in these videos you may enjoy hearing their stories. Most responsible breeders are passionate about their breeds which is the reason they breed.
AKC's Video, "What Responsible Breeders Really Do" is part of their attempt to help people understand that all breeders are not alike. The AKC wants people to think about where they get their pure bred puppies and how they are bred and cared for before they are sold.