"Chili"
Tailgate Chili Willie
After the problems with both Maggie and Lucy we decided to buy from a breeder who was involved in showing dogs. We attended some dog shows. The first one was the Beverly Hills Kennel Club Show in 1998. Back in those days the club rented the Los Angeles Sports Arena for their shows and advertised the shows in the LA Times.
We were very excited. The newspaper ad gave the show schedule so we made sure we were at the show in plenty of time to see the judging of basset hounds. We bought a Show Catalog and watched the judging. It was fascinating. The bassets from one breeder seemed to stand out. Perhaps it was because one of her dogs won Best of Breed.
At the show we learned that the Basset Hound Club of Southern California was having a show in a few weeks with just basset hounds. Well, I have to admit we were in heaven when we attended that show. We never knew such beautiful bassets existed and there were so many of them. The people were very friendly and made us feel at home. I especially remember Ralph Scarrow because he talked to us for quite a while about bassets and the club. There was a newly wed couple, Ron and Mary Lukins, at the show as well. They had a booth where they sold basset hound items that they made. We bought some which got us hooked on collecting basset hound items (a whole story in its own).
That winter and spring we started contacting basset hound breeders for a possible puppy. Pam and I were extremely naive. Since we were teachers we wanted a puppy during the summer and we listed the type of puppy that we wanted. In those days there was no email. Using the dogs show catalog we knew the addresses of the breeders so we sent letters. Eventually, months later, we got a reply from Gail Allen at Tailgate Bassets letting us know that she had a possible pet puppy for us. That was very ironic because it was the Tailgate Bassets that we admired at the Beverly Hills Kennel Club Show. We were very excited!
That's when we got Chili. He had already been registered Tailgate Chili Willie and we decided to call him Chili even though Gail Allen told us that we could name him anything.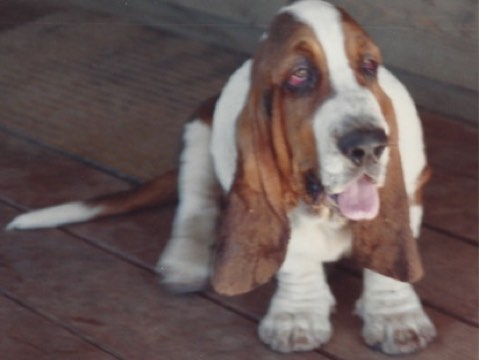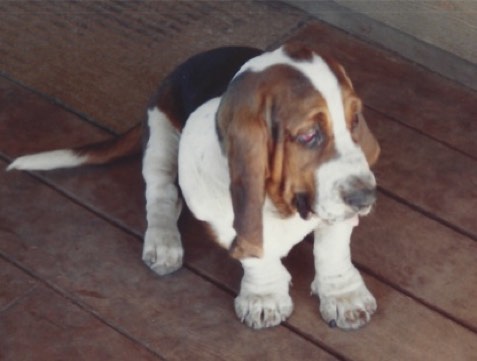 Chili on Gail's porch the day we got him.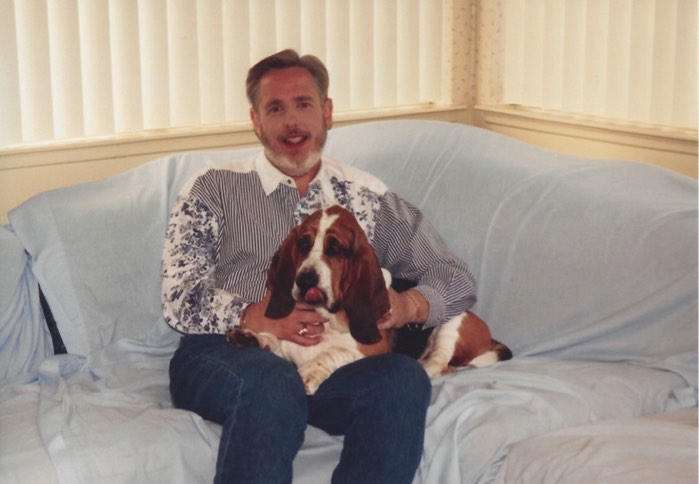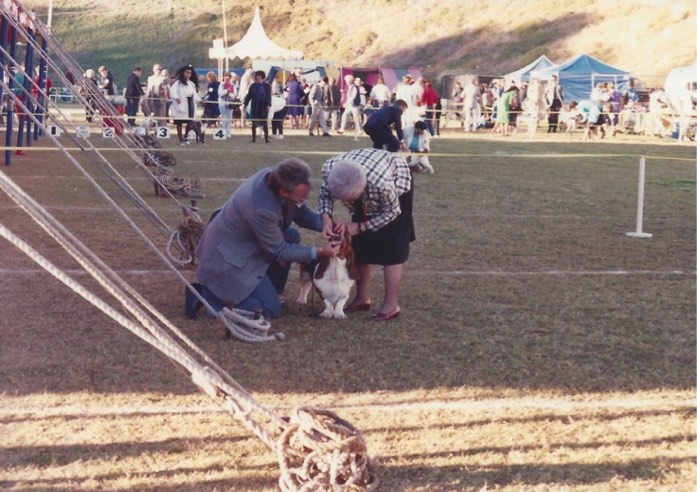 Gail had said that Chili was good enough to show so when he was six months old Don showed him. At his third show at Pierce College the judge noticed that Chili's bite had gone undershot (shown above). This ended his show career but was just a little bump in the road for Don.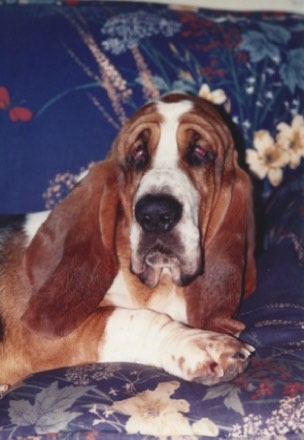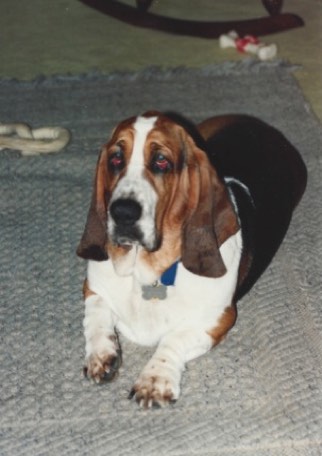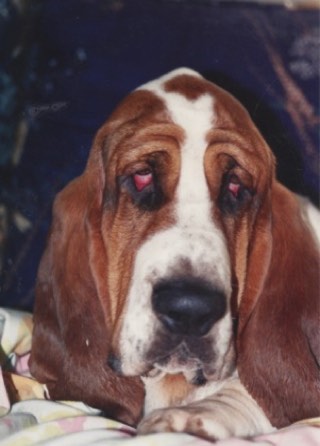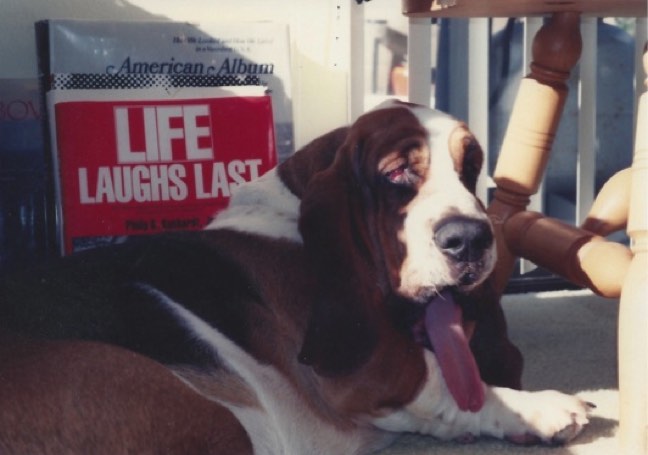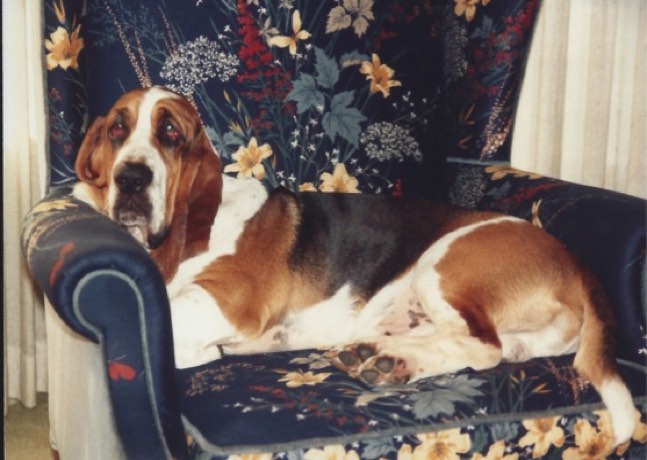 Chili's favorite spot in the house was the big chair in our living room.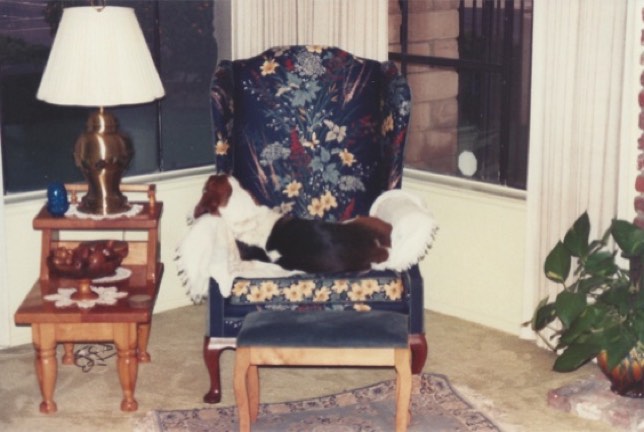 In the evening on nights when Don was either taking classes or teaching at the university Chili would drape himself across the chair watching for Don to come home. He even did this after he lost his sight in both eyes to glaucoma.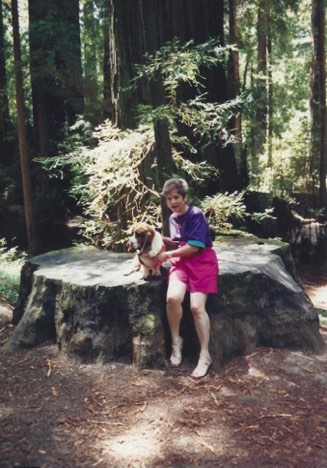 Don & Pam took Chili on their vacation through the redwoods and along the Oregon Coast.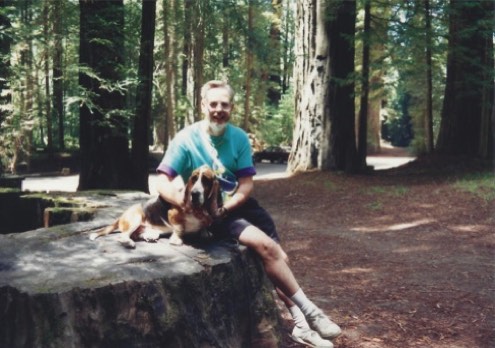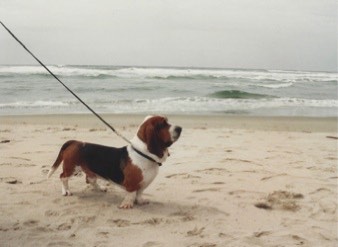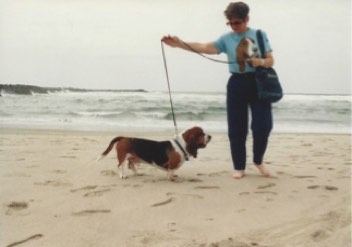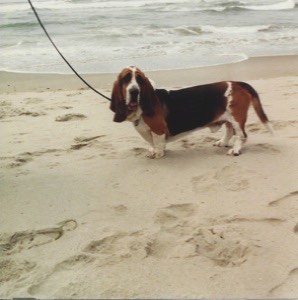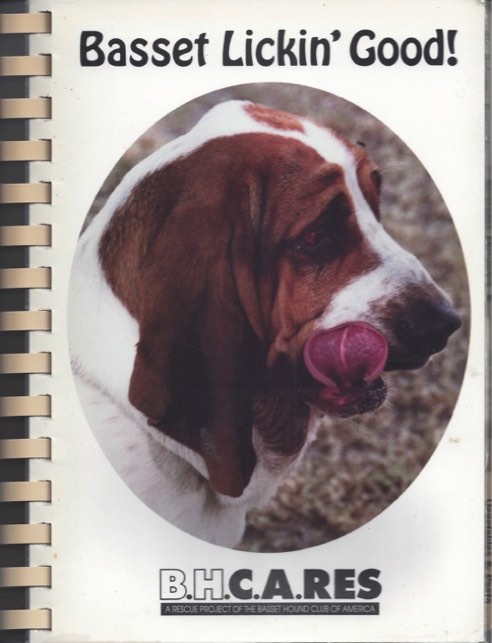 Chili was the cover boy for the cookbook produced in 1998 to help raise money for the Basset Hound Club of America's basset hound rescue fund.
Chili's favorite event each year was the Basset Hound Picnic. Don enjoyed making costumes for him. Pam entered him one year in the longest ears contest.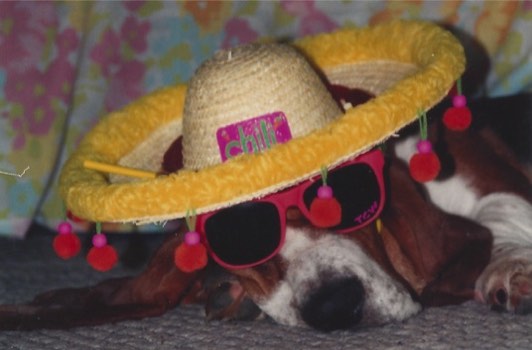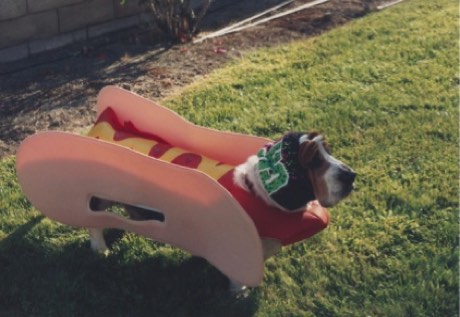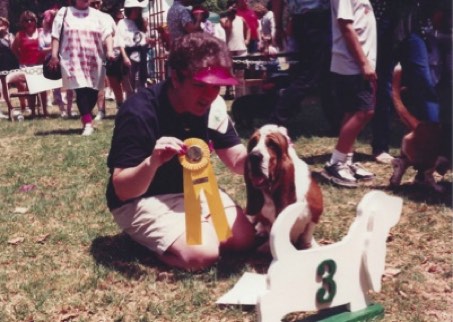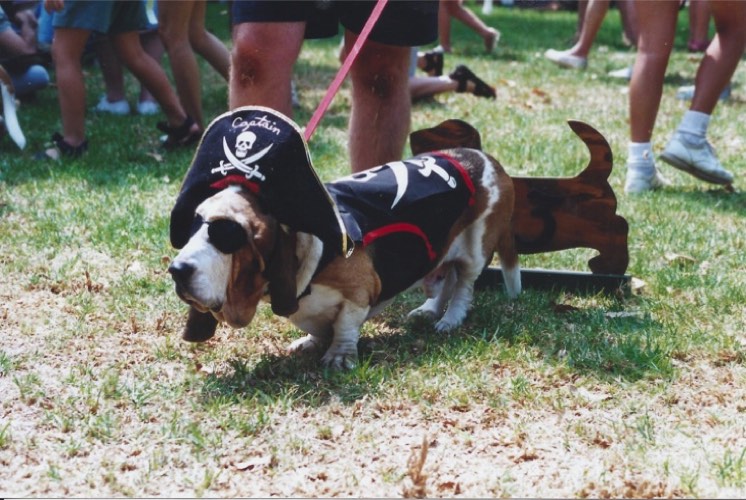 And, after losing both eyes to glaucoma Chili was a Pirate Captain with two eye patches. We had to explain to the judges and the crowd why he had both eyes covered.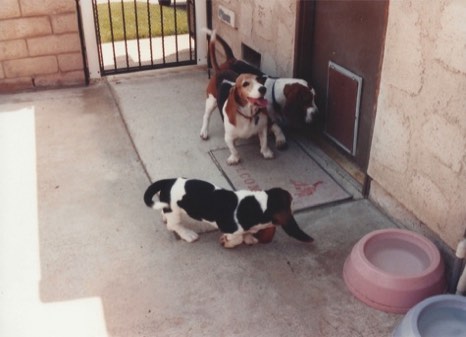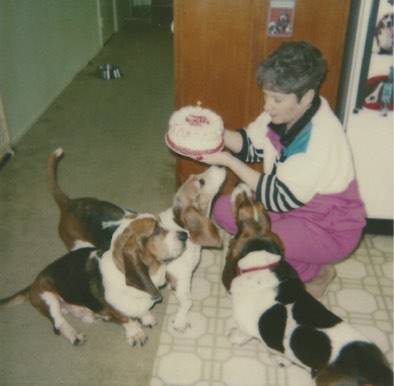 Lucy, Chili and Sam together. On the left they are waiting by the door to the garage from our dog run and on the right we were celebrating Sam's first birthday. In the beginning we'd celebrate every birthday with a cake. It got to be too expensive plus Pam and I gained too much weight.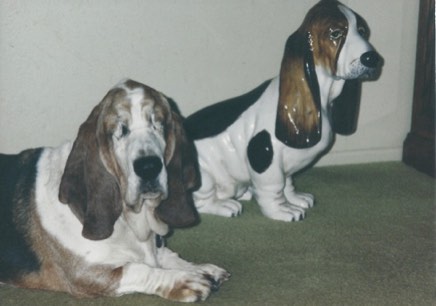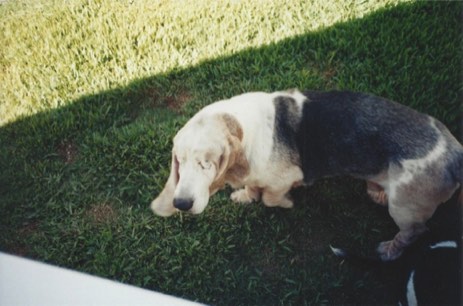 While the loss of Chili's eyes was devastating for us it didn't seem to bother Chili at all. He learned to use his nose and whiskers to tell him what was going on and enjoyed life. Chili still loved greeting new people and flirted with the girls whenever he got the chance. We noticed how important a dog's whiskers are as a sense organ. After that we stopped trimming them for dog shows.
This was another important lesson learned for us for our future breeding plans. Glaucoma is something that occurs in basset hounds and must be guarded against through testing and thorough evaluation of pedigrees.
This website was created and is maintained by Don Bullock.
He can be reached at basithd@yahoo.com
All material on this website is copyright by Donald W. Bullock
All rights are reserved