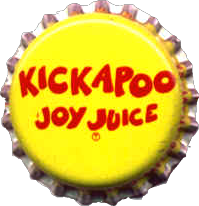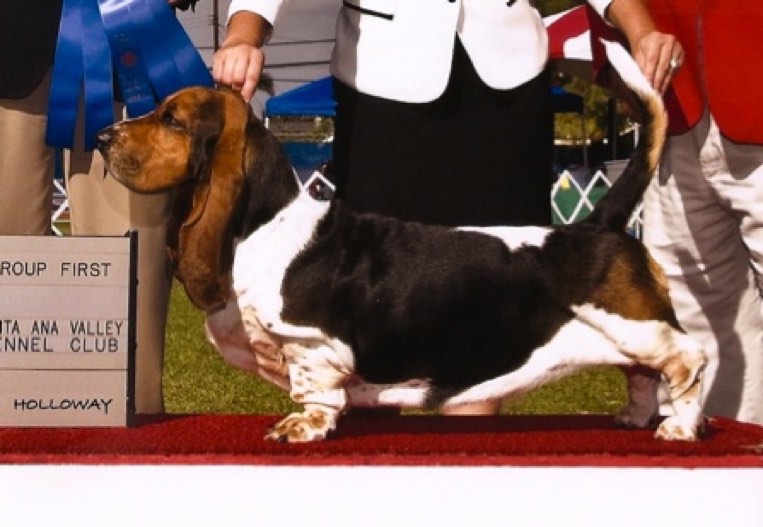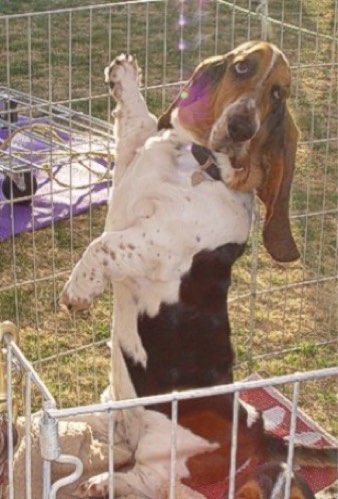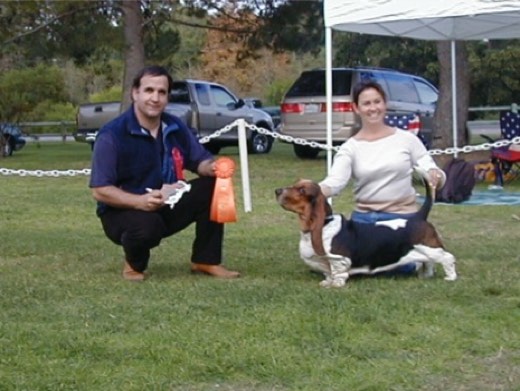 Joy's win at BHCSC match.
Breeder/Judge Ron Lukins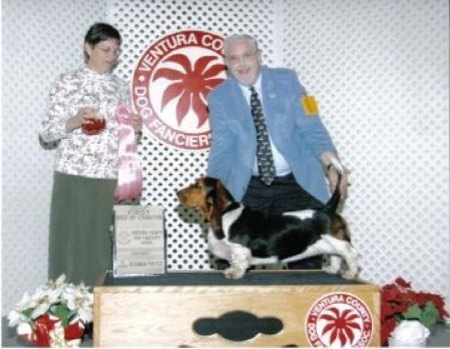 Bred by Exhibitor Group First
This is the day she finished her AKC Championship.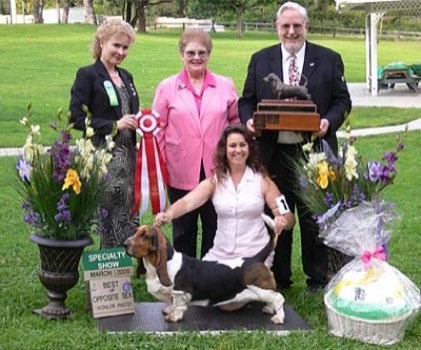 Joy BOS 2005 BHCSC Specialty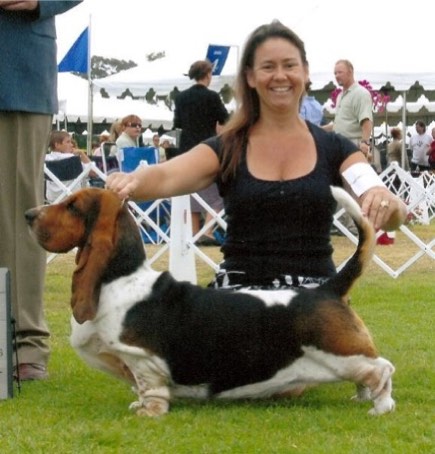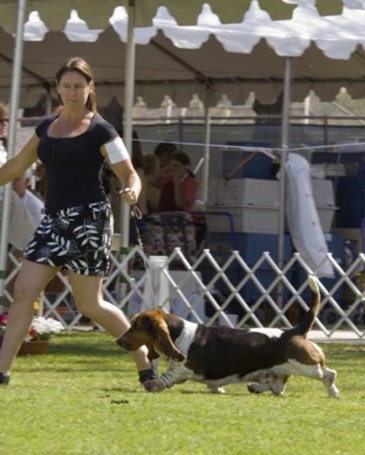 Best of Breed
Beverly Hills Kennel Club
Moving in the group ring.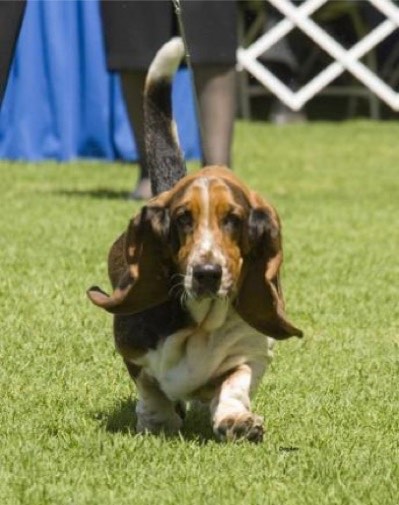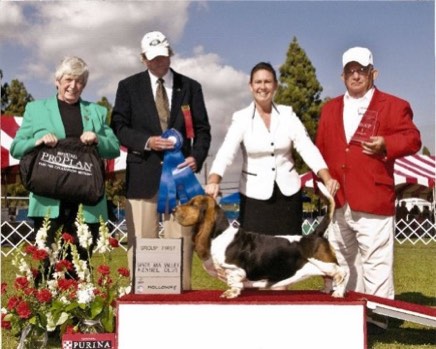 Hound Group First
Santa Ana Kennel Club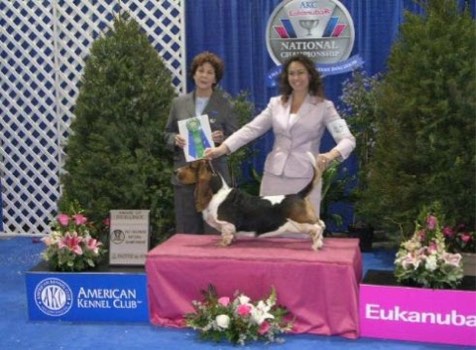 Award of Excellence
AKC/Eukanuba
National Championship Show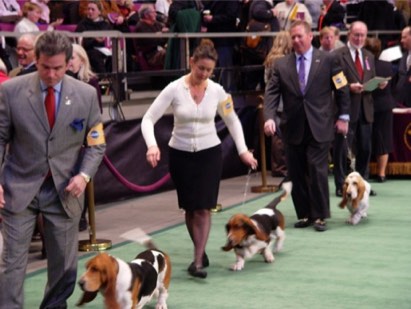 132nd Westminster Kennel Club
Dog Show - 2008
Heather and Joy Coming into the ring.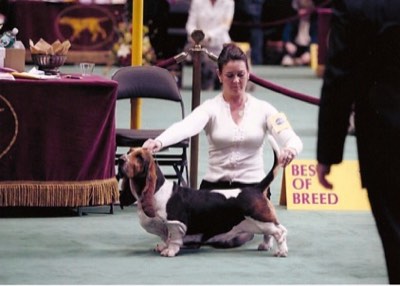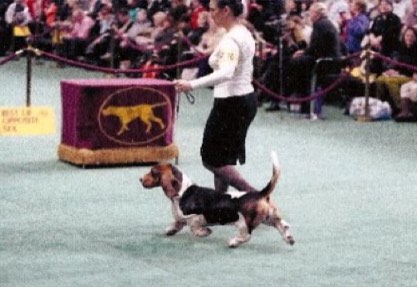 Joy on the green carpet going down and back for the judge at
Madison Square Garden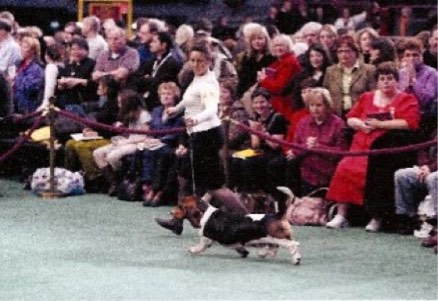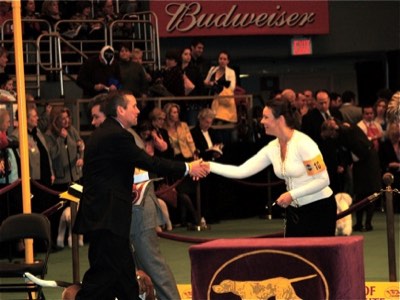 Joy on the green carpet showing off for the crowd at
Madison Square Garden
The judge shaking Heather's hand.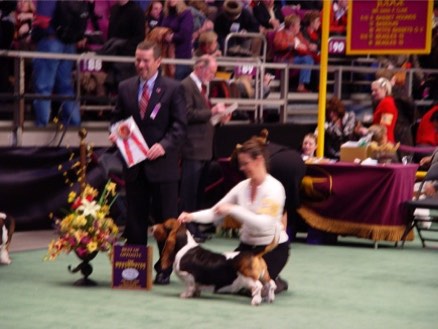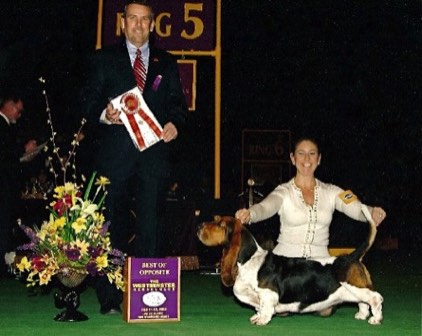 Setting up for the win photo.
Best Of Opposite Sex
132nd Westminster Kennel Club Show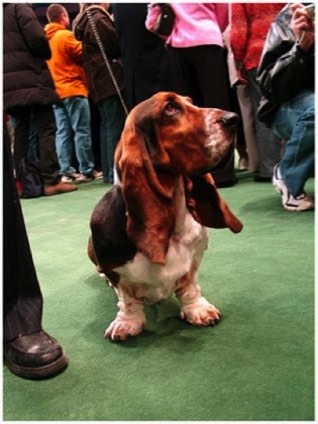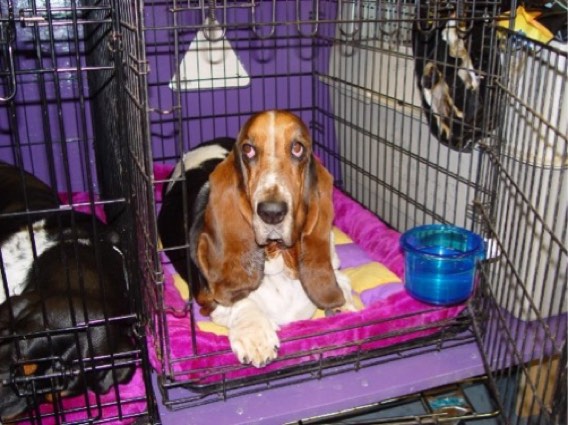 Joy with the public outside the ring just after her win.
Joy relaxing after showing in the benching area at the Westminster Kennel Club Dog Show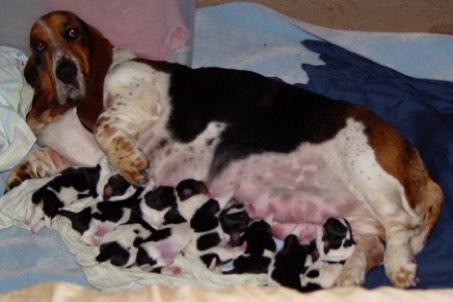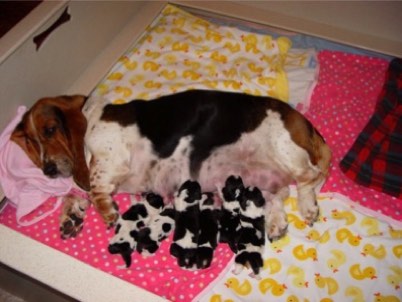 Joy with her first litter of eight.
Joy with her second litter of six.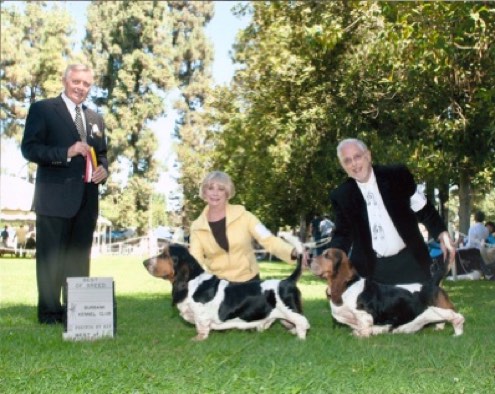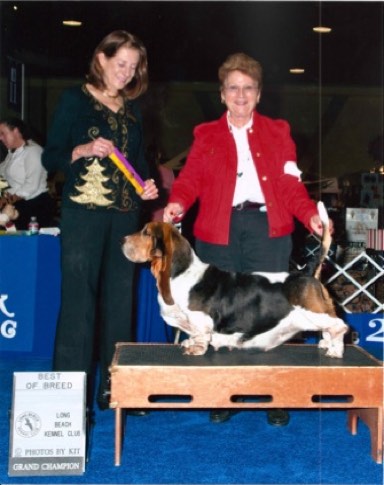 Joy returned to the show ring to work toward her Grand Championship. At the Burbank KC Show she was BOS to her son, Doc.
Joy earned her Grand Championship in December of 2011 with a BOB with Pam showing her.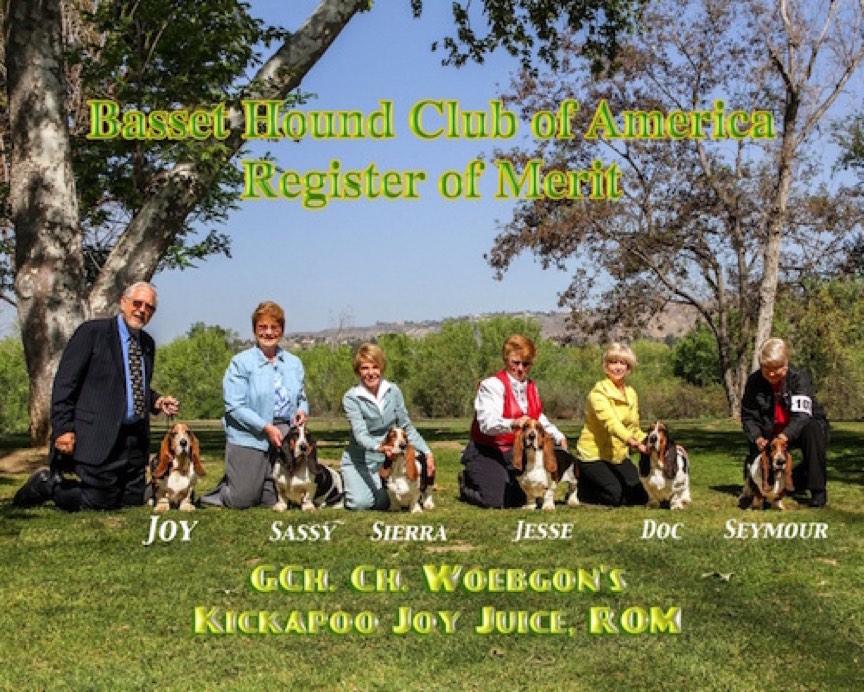 At the Saturday 2013 BHCSC Specialty we had Joy and all five of her Champions together for a photo in honor of her ROM from the Basset Hound Club of America. Joy is from our very first litter.
Left to Right in the photo:
GCh. Ch. Woebgon's Kickapoo Joy Juice, ROM (Joy/mother)
GCh. Ch. Woebgon's Dodge City Sarsaparilla (Miss Sassy)
Ch. Woebgon's Sierra Mist (Sierra)
Ch. Woebgon's Gunslinger (Jesse)
GCh. Ch. Woebgon's Doc Howliday (Doc)
Ch. Woebgon's Long Shot 'N Vogue (Seymour)
A special thank you to the handlers who volunteered to help with the photo. They, along with many others have been very helpful and inspirational in our quest to produce quality basset hounds. We'd also like to thank the Walkers and Tyslings for allowing us to breed Joy to their males to produce the two litters.
At that show Joy was Best in Veteran Sweepstakes and first in the Brood Bitch Class (both shown below).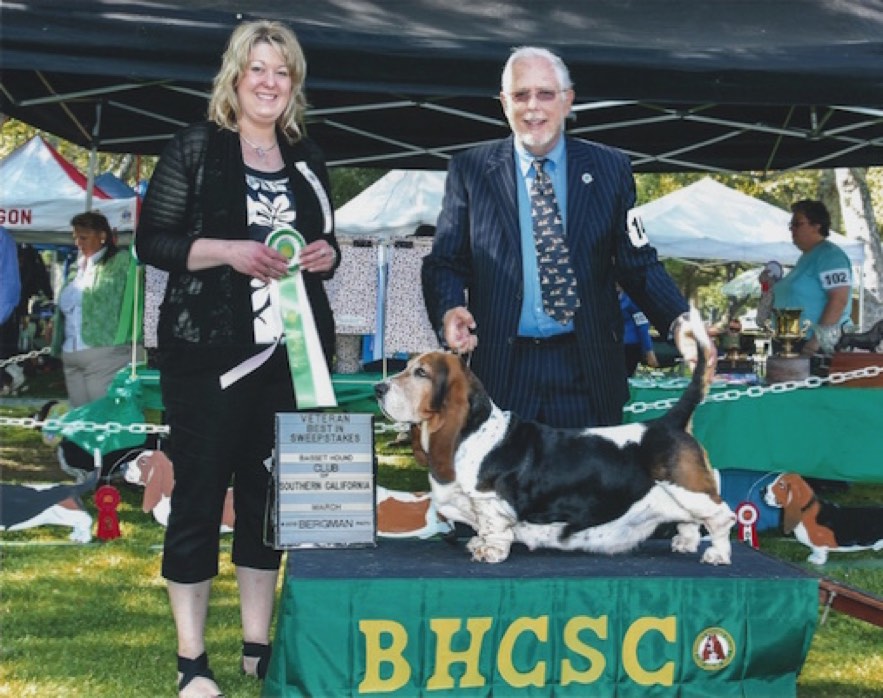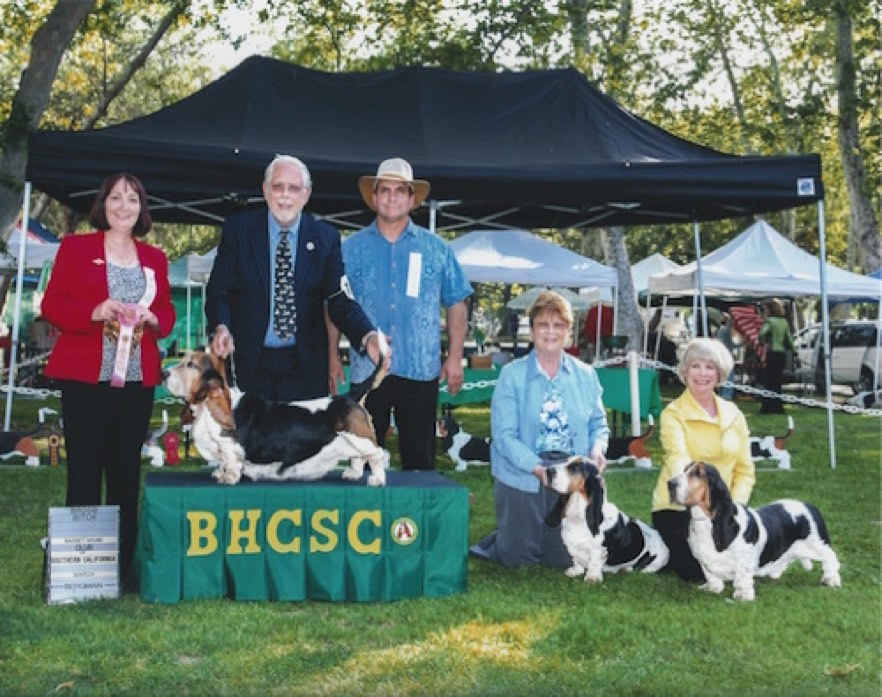 BHCSC Specialty Show on March 22, 2014 Best of Opposite Sex
Veteran Sweepstakes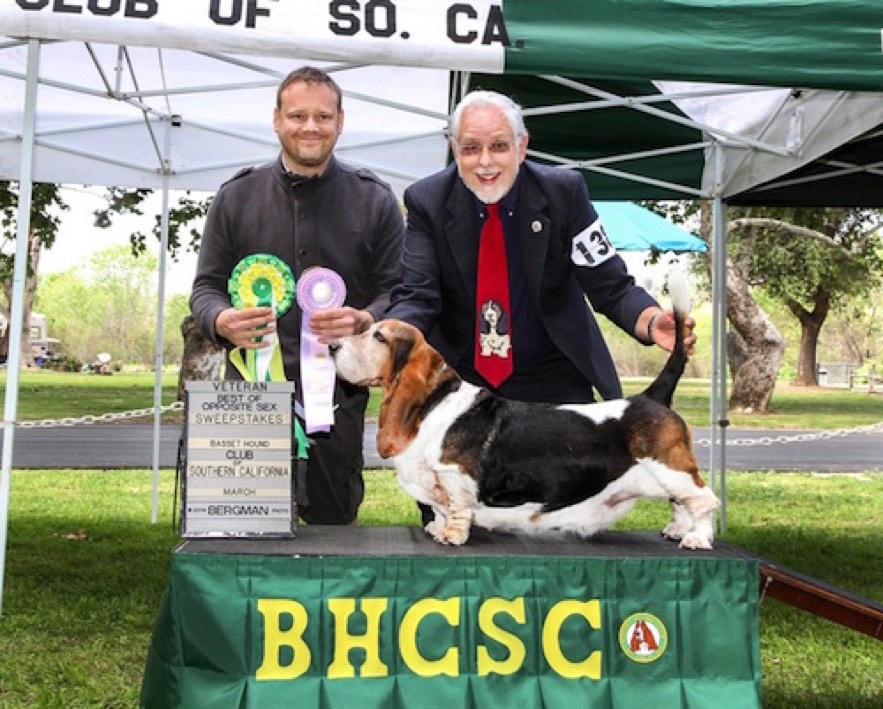 The Veteran Sweepstakes judge that day was basset hound breeder from the United Kingdom, Stephen Archer. He is a licensed basset hound judge over there and has bred basset hounds for many years under the Roamanbay Bassets name.
First in Veteran Bitch Class
The conformation judge that day was basset hound breeder from Poland, Ms Margo Wieremiejczyk-Wierzchowska, president of the Basset Hound Club in Poland and the Cracow Kennel Club. She has been a member of Polish Kennel Club for over 30 years, as an owner and breeder of many Basset Hound champions. Her mother gave her first basset hound to Margo in 1979. She has judged in many countries, including Poland, Slovakia, Czech Republic, Austria, Germany, Italy, Belgium, Russia (including Eurasia 2011), Estonia, Latvia, Belarus, Hungary, Ukraine, World Dog Show Bratislava Slovakia 2009, Lithuania, Australia, Israel, Croatia, France, Sweden, Finland, Ireland, Portugal, Spain, and Romania. We did not take a picture of Joy with the judge.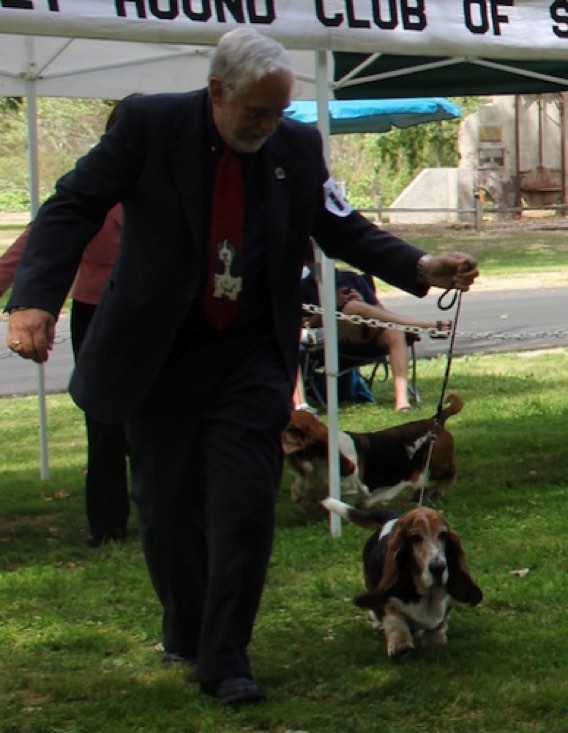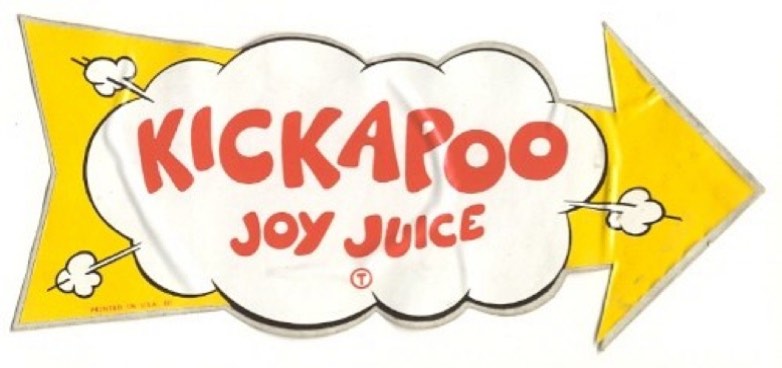 This website was created and is maintained by Don Bullock.
He can be reached at basithd@yahoo.com
All material on this website is copyright by Donald W. Bullock
All rights are reserved
June 23, 2003 - July 16, 2014