We hope to see you at a dog show.
Check out Now Showing for more information.

Show Highlights from Previous Years
We plan to add show news from other years as time allows.
For now check out our Special Wins page.
We at Woebgon Bassets got off to a really great start in the AKC conformation show ring in 2016. Again the first show weekend in Indio was a good one for us. This show weekend at the bigging of the year continues to be a good weekend for us. Our success in 2016 has continued.

Best of Opposite Sex to Best of Breed
Ch. Tradewind's Caicos
"Caicos"
At the Kennel Club of Palm Springs Show Caicos was Best of Opposite Sex and Best Owner Handled Basset Hound for a another major win under judge Mr. Lawrence C. Terricone. We didn't have a picture taken at the show for this win because the judge was behind schedule. Caicos went on to place in the National Owner Handled Series Group (see below).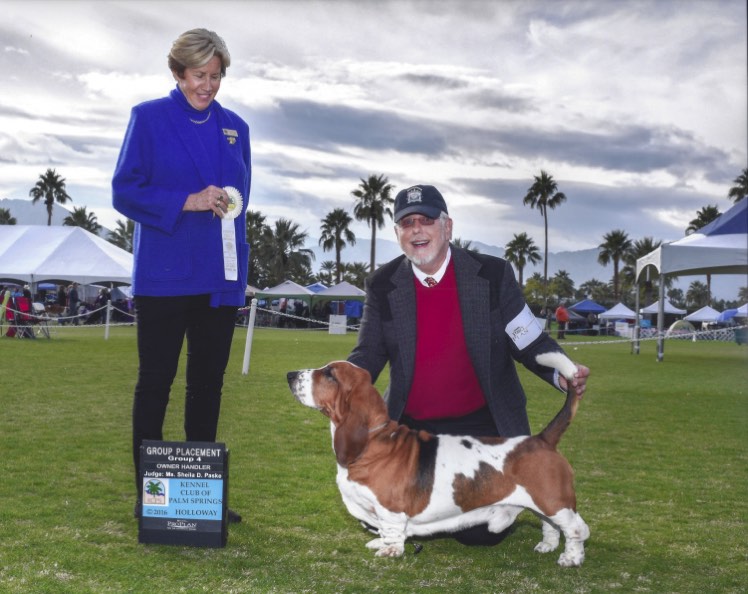 National Owner Handled Series
Group 4
Ch. Tradewind's Caicos
"Caicos"
At the Kennel Club of Palm Springs Show Caicos was won the National Owner Handled Series Hound Group 4 under judge Ms. Sheila D. Paske. This was a very exciting way to start off the new year.
As we were talking to Ms. Paske after judging as we were waiting for a photographer to take the picture we found out that she truly loved Caicos. She said that she loved everything about him. Unknown to us or her at the time she had seen Caicos' brother, Cayman, sitting by the show ring in Florida at the AKC/Eukanuba Championship Show in December and told his owner/breeders, Jeffie and Steve Casey, how much she loved him as well.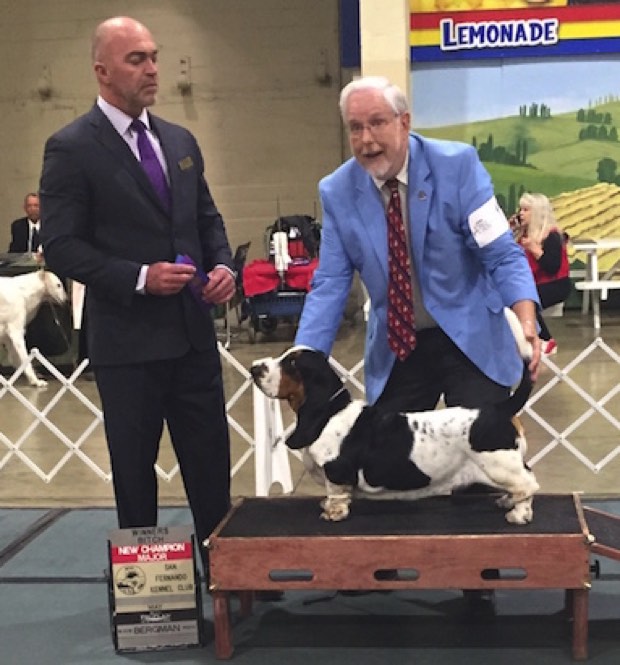 NEW AKC CHAMPION
Winner's Bitch for Her Third Major
Ch. Woebgon's RockStar
"Star"
Star is the first fourth generation Champion for Woebgon Bassets. Unfortunately we lost Star in January of 2017 before she turned three to an aggressive cancer. She is greatly missed.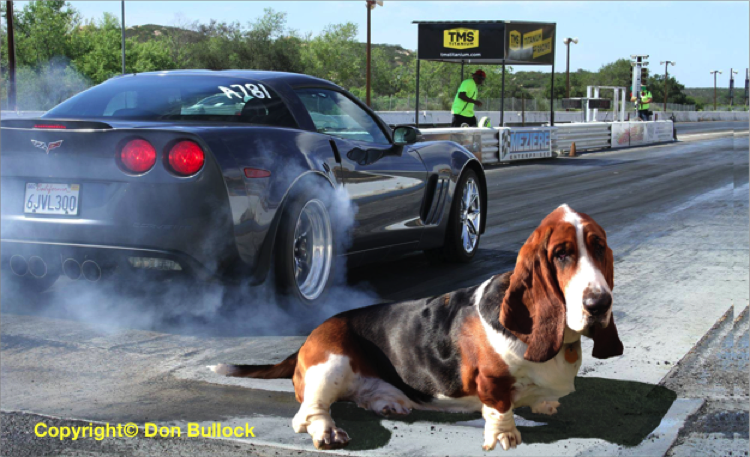 NEW AKC Canine Good Citizen
Woebgon's Magnum, CGC
"Magnum"
This is a very special first for Woebgon Bassets, a Canine Good Citizen title holder. Magnum is from our breeding of Miss Sassy to the brother of our Caicos. He is shown here with his owner's Corvette at the dragstrip.
Caicos has had numerous BOS and Select Dog wins this year and a few Owner Handled Series Best of Breed wins as well. He also won an Award of Merit at the BHCA Regional sponsored by the Greater San Diego Basset Hound Club in May. We have chosen not to have pictures taken because they have become too expensive for so many wins. We will take any future Best of Breed or Group Placement photos for Caicos.
We will post a more official photo once his CGC Cirtificate arrives.
Pixie is Star's sister. She is owned by Ron & Mary Lukins and co-owned by Don & Pam Bullock. Mary will be showing Pixie in Best of Breed competition to work toward her Grand Championship. She may be bred after that.

NEW AKC CHAMPION
Winners Bitch
Best of Opposite Sex to Best of Breed
Ch. Wobegon's Pixie Styx of Desiree Acres
"Pixie"
We at Woebgon Bassets have had a very good year. We've finished two AKC Champions and Magnum, owned by our friend DJ, has earned the first Canine Good Citizen title for our breeding.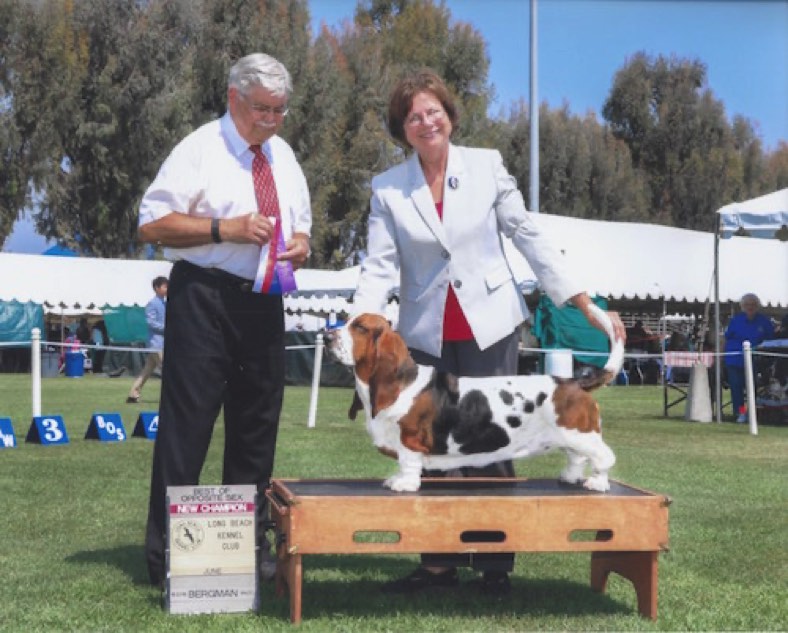 -- NEWS FLASH --
Pixie wins NOHS Hound Group
Details & photo coming soon!